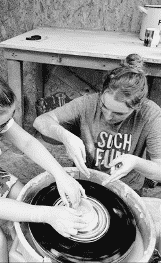 After pottery being her saving grace over the last year, Rebecca Ukleja, along with the help of her family, converted her mum's shed into a studio and is now fully up and running.
Why Uclayja? Well, her surname is Uclayja and having spent a lot of her life trying to explain to people how to say it, her business name now does it for her.
Uclayja has been born out of her lifelong love of crafts and that of the global pandemic. Having worked in construction but never really feeling at home, Rebecca decided to take pottery more seriously, pursuing her passion and displaying her creativity. From her shed, she hopes to create functional and beautiful pieces that are used every day, on special occasions, and even for when the Queen comes for tea.
Whilst selling their own work, Uclayja also teach private 1-2-1 lessons on the wheel and hand building with the hope to have larger workshops and events. In addition, new equipment such as a shiny new kiln, will enable Uclayja to get even more products into the world.
Ceramics will not change the world but if Uclayja can bring a bit of joy to someones' morning coffee drunk from their favourite mug, or give you the chance to send your loved ones a gift to show how much they mean to you, then that will make this all worthwhile.